Available Products
Physical orders under $400 will be charged P&P.
Posters: Demand and Supply (set of 2) *
$25.95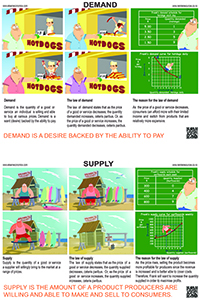 Colourful eye-catching images and text that communicates economic concepts and ideas in an interesting and informative manner.
Designed to attract attention these posters support all students, especially visual learners.
Each poster contains important economic data and ideas that students need to learn and understand.
Reinforce teaching carried out in the classroom.
Each poster comes with a worksheet for students to complete.
Size A2 (420mm x 594mm each).
Buy multiple sets and save. $20.95 each plus P&P

Poster P&P is $9.00 per order and a separate charge to all other orders - couriered in cylinder